---
Cardiology Department
Jabalpur Hospital is home to one of the best cardiologist and best cardiac surgeon in India who offer quality cardiac care services to patients of Mahakaushal region. The hospital provides a wide spectrum of heart related services from simple radial coronary angiogram to high-tech sophisticated treatment involving complex cardiac angioplasties, interventional procedures for peripheral vascular diseases, and balloon procedures for narrowed valves.
1. Angiography
2. Primary angioplasty/ Coronary Angioplasty
3. Temporary pacemaker implantation
4. Permanent Pacemaker Implantation
5. BMV/BAV

Our Diagnostic Services Include: 1. ECG,
2. 2D Echo,
3. TMT,
4. Holter monitoring
5. Angiography

At Jabalpur Hospital we have the Allura FD 10 which is the first in this part of the world and provides high resolution images of the coronary arteries enabling in early detection of heart disease With Stent Boost which is a simple, Quick and cost effective tool to enhance the stent visualization in the coronary arteries.

14-bedded coronary Intensive Care Unit with all life-saving equipment.
---
---
CTVS Department
Jabalpur Hospital offers the very best cardiac care in terms of safety and design in order to minimize the incidence of infection in an operating area. This enables the heart surgeons to operate on the precious hearts of all age groups.

The Centre has dedicated Cardiothoracic CCU with 1:1 nursing ratio, round the clock. They are well equipped with bedside color Doppler, echocardiography system, continuous oxygen supply, infusion pumps, defibrillator, ventilators, invasive as well as non-invasive pressure monitoring systems, temporary pace maker, intra aortic balloon pump, ABG (Blood Gas machine) and electrolytes analysis machines.
Surgical Procedures:

CABG – Total arterial revascularization/bypass surgery/open heart surgery
CABG beating heart surgery – grafting is performed without stopping the heart and putting the patient on bypass. This minimizes the blood loss as well as other adverse effects
Single valve and double valve replacements
ASD and VSD surgeries
Mediastinal tumor excision
Vascular surgeries: surgery for aneurysm aorta, carotid endarterectomy, bypass grafting of peripheral vessels, injury of vessels

Operation Theaters Are Well-Equipped With:
1. High-end anesthesia machine
2. Laminar flow with HEPA filters
3. Cold ceiling lights
4. Heart lung machine
5. CT-ICU furnished with monitors & ventilators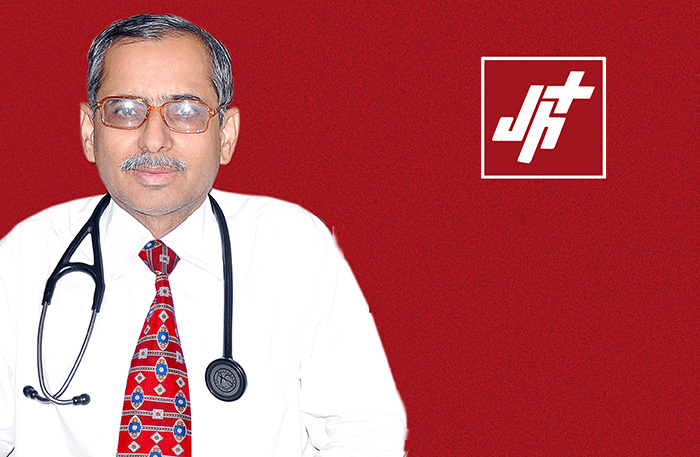 Name:
Dr. Deepak S Baharani
Basic introduction:
1. MD (Medicine) PhD(Medicine)
2. Associate Professor Hitkarini Dental College Jabalpur M.P.
3. Medical Director Jabalpur Hospital & Research Centre (M.P)
4. HOD (Internal Medicine) Jabalpur Hospital Research Centre Jabalpur (M.P.)

Field of interest:
Clinical Cardiology ,Diabetology, Intensive Care
Educational Qualification:
MD (Medicine), PhD (Medicine)
Professional Affiliation:
1. Attended more than 100 National and International Conferences as Delegate Speaker and Chairperson
2. President API chapter Jabalpur
3. President Endocrine Society Jabalpur Chapter

Membership:
1. Life member API
2. Life member CSI
3. Life member RSSDI
4. Life member Critical Cash Society
5. Life member Rotary Club
6. Member American Diabetic Association
7. Member American College of Cardiology

Close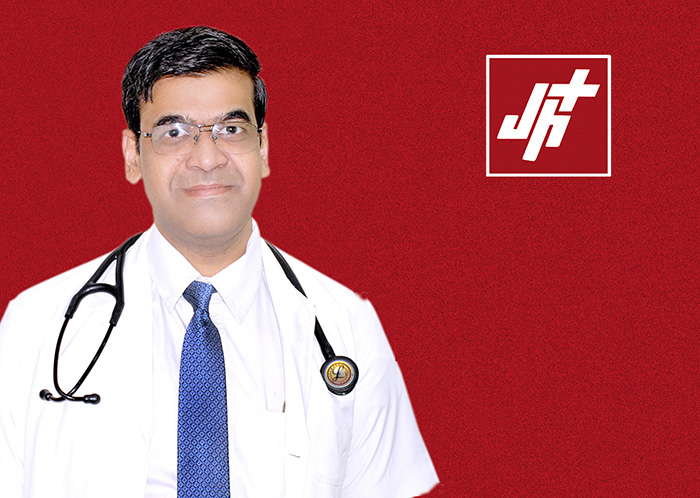 Name:
Dr. Umesh Agrawal
Basic introduction:
Consultant Interventional Cardiologist
Field of interest:
Interventional Cardiology
Educational Qualification:
1. MBBS (MGMMC, Indore)
2. DM (Cardiology) SGPIMS Lucknow
Professional Affiliation:
Consultant Interventional Cardiologist – Jabalpur Hospital & Research Centre, Jabalpur (M.P.)
Membership:
IMA
Close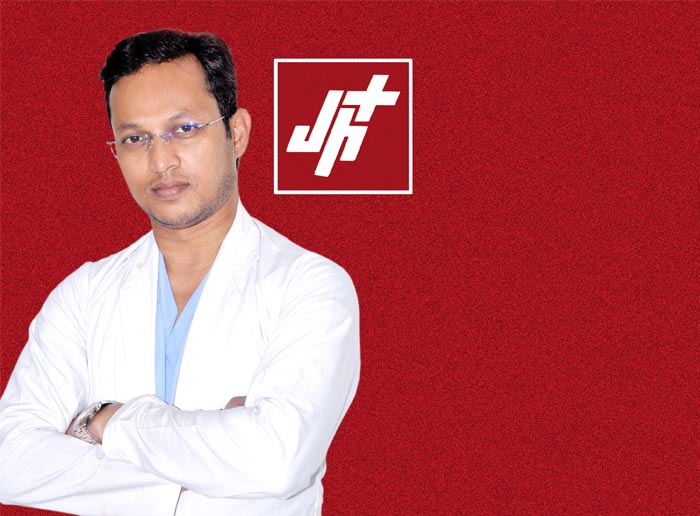 Name:
Dr. Nitin Das
Basic introduction:
1. MD (Medicine) PhD(Medicine)
2. Associate Professor Hitkarini Dental College Jabalpur M.P.
3. Medical Director Jabalpur Hospital & Research Centre (M.P)
4. HOD (Internal Medicine) Jabalpur Hospital Research Centre Jabalpur (M.P.)

Field of interest:
Clinical Cardiology ,Diabetology, Intensive Care
Educational Qualification:
MD (Medicine), PhD (Medicine)
Professional Affiliation:
1. Attended more than 100 National and International Conferences as Delegate Speaker and Chairperson
2. President API chapter Jabalpur
3. President Endocrine Society Jabalpur Chapter

Membership:
1. Life member API
2. Life member CSI
3. Life member RSSDI
4. Life member Critical Cash Society
5. Life member Rotary Club
6. Member American Diabetic Association
7. Member American College of Cardiology

Close